[ Home ] > [ Software ] > [ MSS/CRM ]
---
Finally....A Robust, Yet Affordable CRM System

From your account representatives to your call center, Mobile Sales Suite/CRM is a complete solution designed to increase sales, deliver exceptional customer service and provide a wealth of information about your leads, prospects and customers. Whether working online or offline, in a stand-alone environment or integrated to external business systems, MSS/CRM is a robust sales solution at a fraction of the cost of competitive products.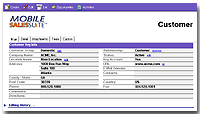 Centralize Customer Information
Allow your customer service representatives and remote sales force to share all customer information from the same database.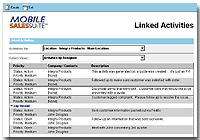 Instant Notification
Assign activities so all responsible parties are "in the loop". Email notifications, calendar entries and "to do's" are all integrated with MSS/CRM.




Work the Sales Cycle
Create and track opportunities for leads, prospects and customers. Multiple sales cycles allow users to walk through the appropriate steps to close the deal.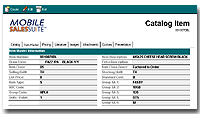 Use One Product Catalog
One database stores your product information, customer and pricing information and marketing information. Accessible through the MSS/CRM client or on the Web for an online product catalog.

The screen shots you see above are a small selection of what's included in the entire application. MSS/CRM is a complete CRM solution with lead, customer and opportunity management, sales resources, product catalog, corporate knowledge base, competitor tracking and activity assignment. In fact, MSS/CRM not only helps your organization work the entire sales cycle - from leads to customers; it also creates a centralized knowledge area to store sales tools and corporate information. Since all the modules are tightly integrated with one another, you have everything you need to provide better customer service, determine why you're winning or losing business, and improve the way knowledge is shared though out your organization.

---
Features & Benefits:
---
© 2000 ~ 2019 X1 Solutions, LLC. All rights reserved.